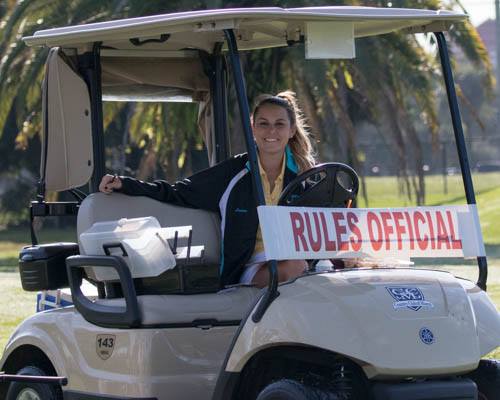 The Gold Tour tournaments are for Boys & Girls ages 6-18 and are 1-Day events, normally conducted on Sundays. The Platinum Tour tournaments are for advanced Boys & Girls ages 13-18 and are scheduled as 36-Hole events. They are conducted any two days of a week.
Players may participate in 2 GCJGF events as a non-member; membership is required for additional tournament entries.
Players must be members of the Gold Tour, Platinum Tour or Gold and Platinum tours to earn Player of the Year points for the respective tour. Points are not awarded retroactive to players that participated as a non-member.
Platinum Tour 36-hole results are reported to Junior Golf Scoreboard. AJGA Performance Base Entry Stars are awarded providing the tournament meets participation requirements.
GCJGF uses the BlueGolf Systems for all membership and tournament transactions. A valid email address and MasterCard, Visa or American Express are required. See "Entry Refund" in the Handbook regarding GCJGF policy.

The Prestige Club, a player's statistic tracking program (a $30 value) is now provided by GCJGF at no charge.
Membership in the Gold Coast Junior Golf Foundation, Inc. is open to all junior golfers under the age of nineteen. Members age 18 may participate until their 19th birthday, unless a senior still in high school or enter college on a full time basis. Membership in the Gold Coast Junior Golf Foundation, Inc. is required to participate in more than two GCJGF sponsored tournaments or events. A member must have a valid email address, be able to obtain all information from the web site and email messages, and make payments of fees using a MasterCard, Visa or American Express credit card. A member will be required to submit an on-line entry form and appropriate entry fee for each tournament. Entries for each tournament may be limited and members will be notified if their entry into a tournament is not accepted.
Membership in the Gold Coast Junior Golf Foundation, Inc. does not guarantee entry into each event. Tournament entry fees vary depending on the tournament site and every effort is made to keep the fee as low as possible. All events will be conducted in the south Florida area to minimize travel expense. A non-member may only play in two (2) tournaments as a non-member during the GCJGF calendar season, then they must become a member if they wish to play additional events. A junior must be a "Gold Tour Member" to participate in the Qualifying tournament for the Okee-Gold Cup Team, the FSGA Junior Team Championships Team, and any other tournament that may be designated by the Board of Directors. A junior must be a Platinum Tour Member to participate in Platinum Tour tournaments.
CONTINUE READING