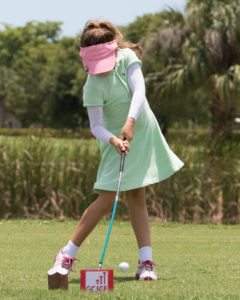 Please refer to the USGA Rules of Golf in order to become familiar with how tournament play will be governed. A Notice to Competitors containing Local Rules for the tournament will be available for each player on site.
​​​The 2021 – 2022 Tournament Schedule provides for online registration using the BlueGolf system. Most events are open to any junior between the ages of six and eighteen, nineteen if still in high school. A membership is required for those who want to participate in more than two Gold Tour events.
Juniors may play the entire year in a division according to their age on September 1, 2020. However, you will have the option to move up to the next age division on your birthday should you choose to do so. A member may also return to their original divisional any time by properly registering for the division they will lay in for the tournament. Division changes will not be permitted after the entry has been processed and approved. The divisions, number of holes, and approximate yardage they play are shown at the bottom of this page. POY Points will be credited to the player for the age division they played in the event. Points are not carried from one division to another.
Trophies are awarded to the first 3 place finishers in each tournament. Players earn points towards a Player of the Year Award for their position of finish in each tournament, playing in the Okee-Gold Cup, attending the USGA Rules of Golf Clinic, and any other event the Board of Directors may authorize to receive points. Points are earned September through July.
Participants for the Florida State Golf Association – Junior Team Championships will be by invitation from the GCJGF Board of Directors.
The following awards are presented following play of the Hall of Fame Classic, a Junior/Parent event, during the Annual Awards Banquet in August.
Player of the Year: Special trophies are presented to the first 3 point leaders in each age division, providing they participated in at least 8 events. The Player of the Year for Boys 13-14, 15-18, and Girls 13-18 will each receive a FSGA Florida Junior Tour exemption.
PAW Award: Presented to each member that participated in at least 8 events, won a trophy during the year, and had no grade lower than a "B" on their final report card.
College Scholarship: Awarded to graduating senior members who will be attending college or university on a full-time basis. The amount of each scholarship is decided by the Board of Directors and is based on number of years a member, GPA, Volunteer Service Hours, Tournaments Entered and must be a current GCJGF member. The Wayne McKinney Scholarships is a $5,000.00 scholarship awarded to one boy and one girl that meet certain conditions.
Please refer to the Gold Coast Junior Golf Handbook for additional Gold Tour information.