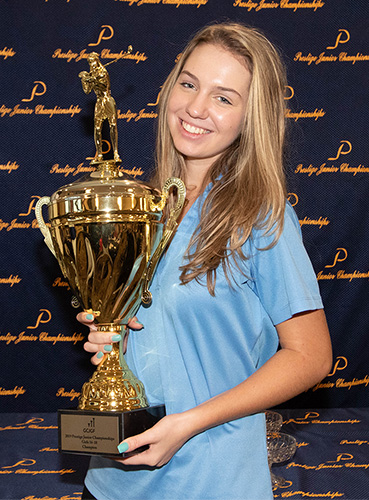 Please refer to the USGA Rules of Golf in order to become familiar with how tournament play will be governed. A Notice to Competitors containing Local Rules for the tournament will be available for each player on site.
The Platinum Tour was created in 2008 when three Board members, who had children playing in a local tour that conducted 36-hole tournaments, made a request to the full Board of Directors to start a tour for advanced boys and girls between the ages of 13-18. The Platinum Tour was approved to be a division of Gold Coast Junior Golf Foundation and was registered with the State of Florida.
Nine tournaments were conducted the first year in the months of March through October. It was quickly learned that there were few juniors that wanted to play additional tournaments in addition to their high school schedule, so the number of tournaments was reduced with the last tournament being the IMG Academy Junior World Championships Qualifier event in May. The 2020 – 2021 season will begin in November 2020.
All 36-hole tournaments are Junior Scoreboard Ranked. In addition to these awards, some of the finest trophies in junior golf are presented for 1st, 2nd, and 3rd place in each division of every tournament, plus an overall award for boys and are presented at the Hall of Fame Classic in August.
​As players grow and prove themselves in the Gold Tour, the Platinum Tour is their next step for developing their skills. Tour membership is open to Boys 13-18 who regularly score 89 or better and Girls 13-18 who score 99 or better. Players 12 years of age who demonstrate the ability to meet the required scoring conditions may request membership. Boys 13-15, 16-18 will play 36 holes at an approximate distance of 6400-6800 yards and Girls 5300-5800 yards.
The Platinum Tour provides the following advantages over other tournament opportunities: