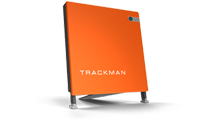 Gold Coast Junior Golf Foundation is pleased to offer its members and guests the opportunity to use the most technological swing analyzer to improve their game and to participate in some of the entertainment aspects of the system.
Users of the TrackMan 4, by registering or signing up to have their information and swing recorded, agree they have read the GCJGF Activity Waiver, TrackMan's Terms and Conditions and Privacy Policy and will abide them.
The TrackMan 4 will be available for use at various times and locations in Palm Beach, Broward and Miami-Dade Counties.
GCJGF members sessions are FREE. Learn the distances you hit each club.
GCJGF will not be coaching members but will email a report to their golf coach or professional.
Call (954) 695-9353. Leave a voice message with a return phone number to call back. Repeat the number slowly.